Our Mission
The Animated Actors Guild is committed to creating a community where animated actors serious about their craft can feel protected and valued as a critical role in the entertainment industry. We make sure all animated actors and their work are treated fairly whether it be at auditions, on set, or monetarily. It is our goal to make sure animated actors are treated as professionals and are reqarded with work that reflects this attitude.
From Our Members
Meet Diggs, Harry, Meryl, and Winston and hear what makes The Animated Actors Guild so important to them.
Events
October 13, 2023
Actors Workshop - Improving Your Auditioning and Cold Reading Skills
Monthly Mixer
Brush shoulders with directors, writers, and fellow TAAG members at our monthly mixer! Starts at 7pm on the third Thursday of every month.
Become A Member
"Joining The Animated Actors Guild has been a huge boost for me both professionally and personally."
- Meryl
Sign Up Today!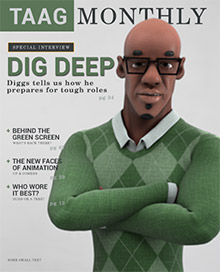 Latest Issue
Store
Show your support for The Animated Actors Guild by visiting our online store and picking up a t-shirt (or two)!
Contact Us
Questions, comments? Email us and let us know how The Animated Actors Guild can better serve you!